Brief History of Relations.
1_India and Maldives share ethnic, linguistic, cultural, religious and commercial links steeped in antiquity and enjoy cordial and multi-dimensional relations.
2_In 1965 Maldives got freedom from British.
3_India was among the first to recognise Maldives after its
independence in 1965.
4_Prior to independence they had authoritarian system with Gayoom at its head. India didn't interfered in domestic things.
5_India was also first to establish diplomatic relations with the country. India established its mission at Male in 1972.
6_1988 Operation Cactus. India provided naval assistance. It was request by Govt. itself against domestic uprising.
In 2004 Tsunami, India was 1st country to offer support to Maldives.
2005 elections, Nasheed comes to power.
2011 – GMR Infra, Indian company was granted to run Male Airport.
2012 – Abdul Yameen comes to power. (Half Brother of Gayoom).
1_Maldives China relations expanded to unprecedented levels under Yameen regime.
2_2012 – Yameen govt. cancelled GMR project. This marked the lowest point in relations. India froze its $25mn aid to island nation.
3_2014 – Collapse of Maldives only water treatment plant. Maldives requested India for urgent help. India airlifted water bottles with its heavylift helicopter. India also sent ships with on-board desalination plants. This efforts of India were widely appreciated.
4_2015 – Nasheed's arrest and eventual political exile.
5_2017 – Maldives became 2nd country in South Asia to sign FTA with China after Pakistan.
6_A MoU was also signed which brings Maldives in BRI initiative.
7_Yameen allowed 3 chinese warships to dock in Male in Aug 2017. India is not happy with developments.
8_According to estimates, China's loan on Maldives could be around $1.5bn, a quarter of its GDP.
9_After 2014 elections, PM Modi visited all neighbours except Maldives.
10_June 2018, Maldives asks India to take back its gifted helicopters from Addu Atoll.
India's relations with the Maldives "are not broken and cannot be broken" as it is a neighbouring country.

Ms. Sushma Swaraj
Sep 2018 Elections
1_Yameen was defeated and Mohammed Solih became President of Maldives. Eventually Nasheed also return from exile and charges against him are dropped.
2_Within hours of his victory, Solih called Indian PM. He publicly said that India is Maldives 'closest ally'.
3_His party has vowed to bring his country closer to India. And also to re-negotiate deals with China. But it is easier said than done.
4_In his maiden visit to India as president, he affirmed India of Maldives 'India first' policy.
5_India has announced $1.4bn LoC and also budgetary support to Maldives.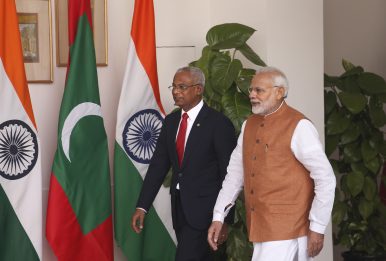 India is training their naval officers.
Maldives has contributed highest per capita men to ISIS. Islamic radicalization is a big problem in Maldives.
Democracy is not so strong in Maldives.
Bilateral trade between India and Maldives is around $100mn. Consisting mainly of Indian exports.
There is very good P2P contacts and Business relations in countries.
Start your PSIR journey today